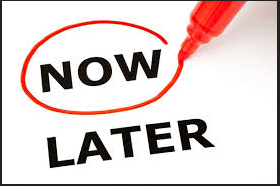 I am ready to branch out and take on a new topic as it applies to so many artists. You will have to stay tuned to find out the other big, common, website mistakes artists make, or download my workshop for a comprehensive view of this and other topics.
Often times artists find my site, or sit on one of my talks, or get my eBook and get all excited about working with me. They email me to let me know they want to start real soon. But then, when it comes to scheduling a time, they tell me they are not quite ready yet. Some feel they need to first create a website, others tell me they are just about to start a totally new type of art, with a new market to go with it, and feel they need to wait six months until after they have created enough of these new works before we start. Of course these are just some recent examples. Variations, and reasons to postpone, come in many forms.
Now, I understand not feeling quite ready yet. Surely you can think of couple of more things to do that you haven't done yet and then you'll see if you still think I can suggest other things you haven't tried. You may feel like you haven't yet exhausted your current to-do list.
The truth is: You will never exhaust your to-do list. But that's why you have to be strategic; you simply can't do it all.
This is where I come in. I will help you identify where and how to get the biggest bang for your buck (and your time) so you don't have to try to do it ALL and then learn from your mistakes.
I will show you how to best achieve your goals by properly prioritizing, saving time where possible, and finding better avenues you may not have considered. As a result, you will be able to deliver sooner and market-test new concepts earlier than you thought you could.
I will also provide you with the best resources to simplify your process.
If you are on the fence, don't let six months go by before you reach out to me to find out how to get where you want to be faster, better, and cheaper.
The earlier you get good advice, the less time you will spend looking for it.
Sign up for my upcoming comprehensive Art Business, Marketing and Strategy Coaching Class where you will gain clarity on the value your art brings your collectors and learn how to effectively leverage that value with future collectors.
You will learn how to identify your ideal clients. Create a website that works for you. Become press friendly and grow your business through multiple sales and leasing channels.
Small class size ensures one-on-one interaction and allows for group support. Classes are carried out via Google Hangouts allowing for face-to-face video interaction from the comfort of your home.
If you are not familiar with Google Hangouts, detailed instructions will be emailed to you and we will test your setup ahead of our first session.
Limited space. Sign up today to secure your spot
If you'd like to use my articles in your newsletter or on your blog. All you have to do is include the following:
Liron Sissman is a professional artist and an MBA. She coaches artists at ArtistAdvisory.com. This article was originally published in her ArtistAdvisory Blog: The Art of profiting from your Art, which is sent to thousands of artists who are elevating their businesses. Start your free subscription today and read more articles like this at www.artistadvisory.com