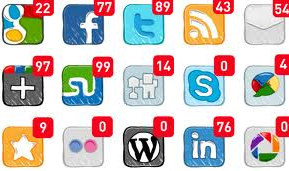 Allow me to continue this blog series by describing yet another common artist website mistake many artists make. If you are new to this blog topic please see Part I, Part II, Part III, and Part IV where I discussed the first eight common website mistakes I see many artists make.
I'll continue where I had left off with the next common website mistake:
9) No social media share buttons
Social media buttons broadly fall into two categories. The first category is the 'Hey come check out my Facebook page' one. This type actually takes visitors off your website and brings them to your Facebook page which is not nearly as valuable as the second type; which is what I call the 'Share' type. The 'Share' type buttons are those social media buttons helping your site's visitors share your site with their network be it on Facebook, LinkedIn, Pinterest, or Twitter. Done right it helps visitors share a link to your website along with a description of your artwork and possibly an image or two simply by clicking a button. And, it does all that while leaving visitors on your website! You can pre-define what gets shared when setting your social media buttons. It's a great way to help spread the word!
Looking to gain more insights into how to become a successful artist? Learn what you need to know and be guided through the process, step by step. This is what my Art of profiting from your Art workshop is all about. And the best part is it's now available online for you to study at your convenience. Click to learn the secrets only successful artists know and see your income grow! This workshop will more than pay for itself in no time!
Have you implemented any website changes that resulted in higher subscriptions and/or increased sales? I would love to hear from you what they were and what were the outcomes!
Copyright 2014, Liron Sissman, ArtistAdvisory.com. All rights reserved.
Would you like to share this article on your blog or newsletter?
If so, all you need to do is include the following with it:
Liron Sissman is a professional artist and an MBA. She coaches artists at ArtistAdvisory.com. This article was originally published in her ArtistAdvisory Blog: The Art of profiting from your Art, which is sent to thousands of artists who are elevating their businesses. Start your subscription today and read more articles like this at http://artistadvisory.com