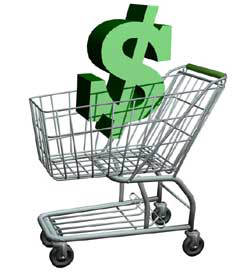 While on the topic of common website mistakes many artists make let me add this big one:
10) No shopping cart
Does your site offer a shopping cart? If so, you are ahead of the curve. Your site undoubtedly takes time to maintain and keep up-to-date. You spend your valuable time, and/or hard earned money, maintaining your web presence. Why not have your site work for you by helping generate some sales in the process? Many WordPress sites come with easy to install shopping carts. But shopping carts can be pretty easily added to any website. In fact, when I teach my workshop: Create Your FREE Website in a Day (scroll down on linked page), I show participants how to create a site that includes a FREE shopping cart.
For reasons too many to list and explain in this blog post, I don't necessarily recommend artists price, or generally attempt to sell, their originals off their website. However, I do encourage artists to sell lesser priced items, such as giclees, off their sites.
If you are not sure how to do it, you may wish to seek help. My upcoming workshop would be a good place to start.
For your reference, as an example, my own art shopping cart offers giclees in various sizes of many of my oil paintings. It is viewable at: www.Liron.com/signed_editions.php
It's an easy to maintain online shopping cart. As new artworks become available they are easily added in multiple sizes and on various substrates. The cart incurs no fees to maintain. It is integrated with my Paypal account and allows buyers to securely pay online using any major credit card, and/or using their Paypal balance. I only pay Paypal's transaction fees when artworks sell.
Looking for a success strategy for your art business? From website improvements to attracting your ideal clients? I provide step by step instructions on art business strategy, marketing, and selling in my downloadable workshop: The Art of profiting from your Art.
Ready to share your experience with your online shopping cart? If so, I'd love to hear from you in the comments section.
By the way, if you just come across this post, I suggest you read my previous posts on the biggest website mistakes many artists make. See: Part I, Part II, Part III, Part IV, and Part V.
Liron Sissman is a professional artist and an MBA. She coaches artists at ArtistAdvisory.com. This article was originally published in her ArtistAdvisory Blog: The Art of profiting from your Art, which is sent to thousands of artists who are elevating their businesses. Start your free subscription today and read more articles like this at www.artistadvisory.com